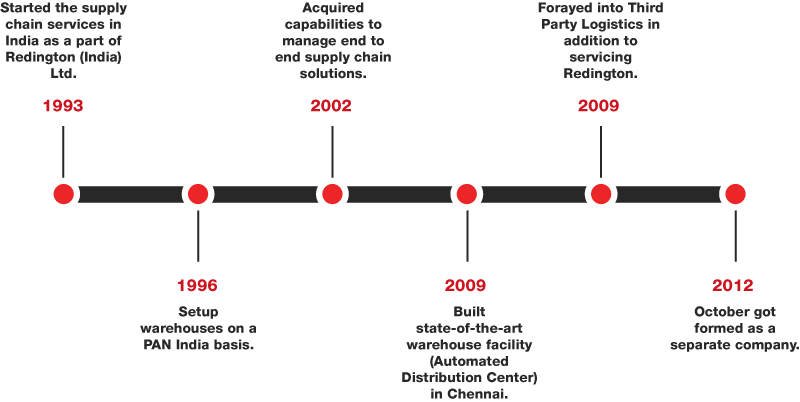 At ProConnect, part of the USD 6.5 billion Redington Group, we provide end-to-end supply chain solutions to over 160 leading brands across industry verticals. As a warehousing and supply chain specialist, we offer a lot more than just the ability to support your business operations with a well-planned and sophisticated cohesive package of end-to-end supply chain solutions. With over 172 warehouses and over 6 million square feet of space, delivery capability to more than 36,000 customer locations, and an enhanced reach in East & North-East through our subsidiary, Rajprotim Supply Chain Solutions Limited, we can take care of all your requirements across India.
Our Strengths – Modern, ready-to-use infrastructure – Plug and-play operations – Online visibility – End-to-end solutions and services
Formed SCM Team
In 1993, started the supply chain services in India as a part of Redington (India) Ltd. In 1996, set up warehouses on a PAN India basis.
Strengthened SCM
During 2002-2006, acquired capabilities to manage end-to-end supply chain solutions.
Forayed into 3PL
In 2008, Forayed into 3PL by providing warehousing and transportation services to Telecom and LifeStyle customers.
ADC Chennai
In 2009, built state of art warehouse facility (Automated Distribution Center) in Chennai. Unlike the other warehouses, in which the storages are 'flat' and more spread out (horizontal), these ADCs have multiple height storage with Very Narrow Aisle (VNA) Technology.
Hived-Off as ProConnect
In 2012 October, ProConnect Supply Chain Solutions Limited has been formed as a separate company. This helps in providing more scalable and customized services to customers' needs based on market conditions.
Awarded as 3PL Company of the Year-Hi-tech
ProConnect has added one more feather to the Cap; Won the prestigious award of "Best 3PL Company of the Year – Hi-Tech" at the 8th Express, Logistics & Supply Chain leadership Conclave".
Crossing Rs.100 Cr. Turnover
In the year 2015-2016 financial year, we cross the 100 crore turnover milestone. We achieved this in just three years by providing on-time quality services to our clients.
Vision
Our Vision is to make ProConnect the most innovative Supply Chain Management Services Company, focused on the highest value creation for its customers and shareholders.
Mission
At ProConnect we strive to provide our clients with the best of services customized to meet their unique needs through effective collaboration, management, and optimization of its integrated value chain.
Download PDF