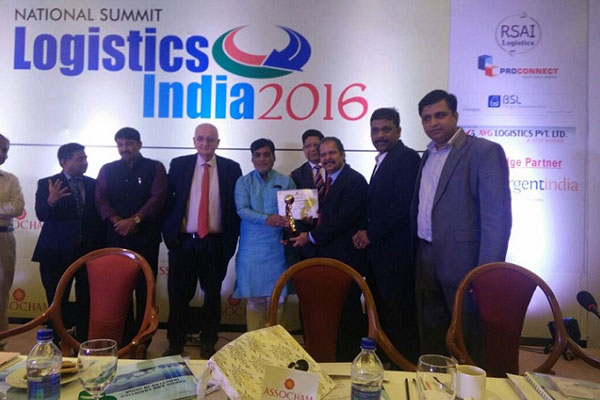 Best 3PL Company Award
We are immensely happy to announce that, ProConnect participated in the National Summit: Logistics India 2016 Expo held on 4th May 2016 at Hotel Le Meridien, New Delhi and was awarded as the "Best 3PL Company" by ASSOCHAM. The award was given by Shri. Ram Kripal Yadav, Minister of State, Govt of India and Mr. Manoj Kumar Tiwari, MP.
Below is an extract of the conference: New Delhi, May 4 (ANI): Logistics market in India is expected to witness total worth of USD 307 billion by 2020 as India spends around 14.4 percent of its GDP on logistics and transportation as compared to less than 8 percent spent by the other developing countries.
According to Minister of State for Drinking Water and Sanitation Ram Kripal Yadav, building of dedicated rail freight corridors will promote efficient haulage of containerized cargo by rail. One key advantage of the dedicated freight corridor is that freight trains could be run on time tables similar to passenger trains, and the frequency can be theoretically increased to one train in 10 minutes. This will reduce time for goods transportation between Mumbai and Delhi to 18 hours from 60 hours now.
While inaugurating a conference on 'National Summit: Logistics India 2016,' organized by ASSOCHAM, the minister said that waterways are 50 percent cheaper than road and nearly 30 percent cheaper than rail. The coastal leg, apart from being more fuel efficient, can also carry larger parcel sizes and provides a great opportunity for consolidation of loads, said Yadav.
The Government of India's ambition to replace the National Maritime Development Program (NMDP) with the more comprehensive Maritime Agenda 2010-2020 is in line with its objective to increase port capacity. It intends to encourage private investment in both major and non-major ports and bring port performance at par with international standards. Through this program, government plans to invest Rs. 2,870 billion in generating total port capacity of 3,200 MMT and cater to expected cargo traffic of 2,500 MMT by the end of 2020.
Over 160 airports currently fall into this category and following through on this initiative would improve regional connectivity across the nation. It is difficult to say exactly what scale of impact this will have on the logistics sector since most goods are still transported by road or rail. But we can be assured that it would only be an improvement on the existing state of things. The reach of companies operating in the logistics sphere would increase if the logistics sector sees transport by air as a viable option, said Yadav.
Access to cheap capital should be made available to Logistics Service Providers for investments in infrastructure, enabling them to extend longer credit periods to their clients and supplementing their working capital. The government should create a uniform tax structure and do away with multiple check points and documentation requirements, which would lead to speedier delivery of cargo.
The growth of the Cargo and Logistics industry will not only contribute to the GDP, but will also generate employment opportunities.
Other who spoke during the conference were Manoj Kumar Tiwari, MP and Member of Department Related Committee (RS) on Transport, Tourism and Culture, DP Pande, Former Member Traffic, Railway Board, RK Dubey, Chief Mentor and President, Resurgent India Limited, SC Agarwal, CMD, SMC Group, Julian Michael Bevis, Chairman, ASSOCHAM National Council on Shipping, Ports and Logistics and DS Rawat, Secretary General. (ANI)"